Chiropractic Care
Chiropractic means "done by hand." Here at DuPage Pain Management, Ltd., we believe it is our responsibility to use our hands to locate any restrictions in the joints and work to correct them. By performing careful, specific adjustments, we are able to restore motion to the joints -ultimately, this allows the muscles around the joints to relax and encourages better overall mobility.
Our practice is committed to helping all patients live happier, healthier lives through quality chiropractic care. Learn more about what we have to offer you.
How Does Chiropractic Care Help?
Chiropractic care is a proven natural healthcare alternative that looks at the entire body through the eyes of the brain and the spinal cord. Together, the brain and the spinal cord form the central nervous system. If the central nervous system is working properly, the body as a whole is healthier as a result.
Through the removal of interferences in the central nervous system, we can relieve pain and promote better well-being. Diet, nutrition and exercise are then used to support the progress.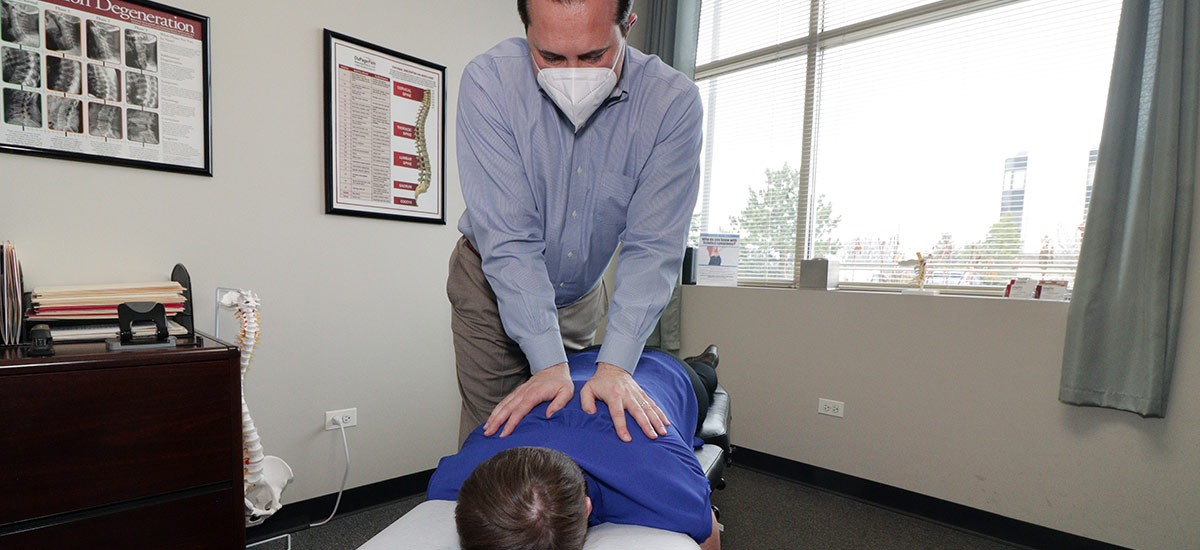 Our Approach
DuPage Pain Management, Ltd. wants to help as many people as possible. To better assist patients of all ages and lifestyles, Dr. Mersinger is trained in various chiropractic techniques. These approaches to care include
Diversified Technique
Activator Method®
Extremity work
We are the proud home of a diverse patient community. While the Diversified Technique is a hands-on, manual adjustment, Activator Method® is instrumental – geared more toward infants, children and older adults. No matter your age or condition, we can help you feel better!
Benefits of Chiropractic Care
Chiropractic care has been known to address many symptoms, if you are experiencing any of the below complications you might be a good candidate for chiropractic care:
Low back pain
Neck & Shoulder pain
Say Goodbye to Pain
Your body deserves the best. We are here to provide you with lasting care. Say goodbye to pain and hello to a life of comfort. Contact us to book your appointment today! We are glad to answer any questions you might have regarding possible care.
CONTACT US »

Chiropractic Care | (630) 887-9400